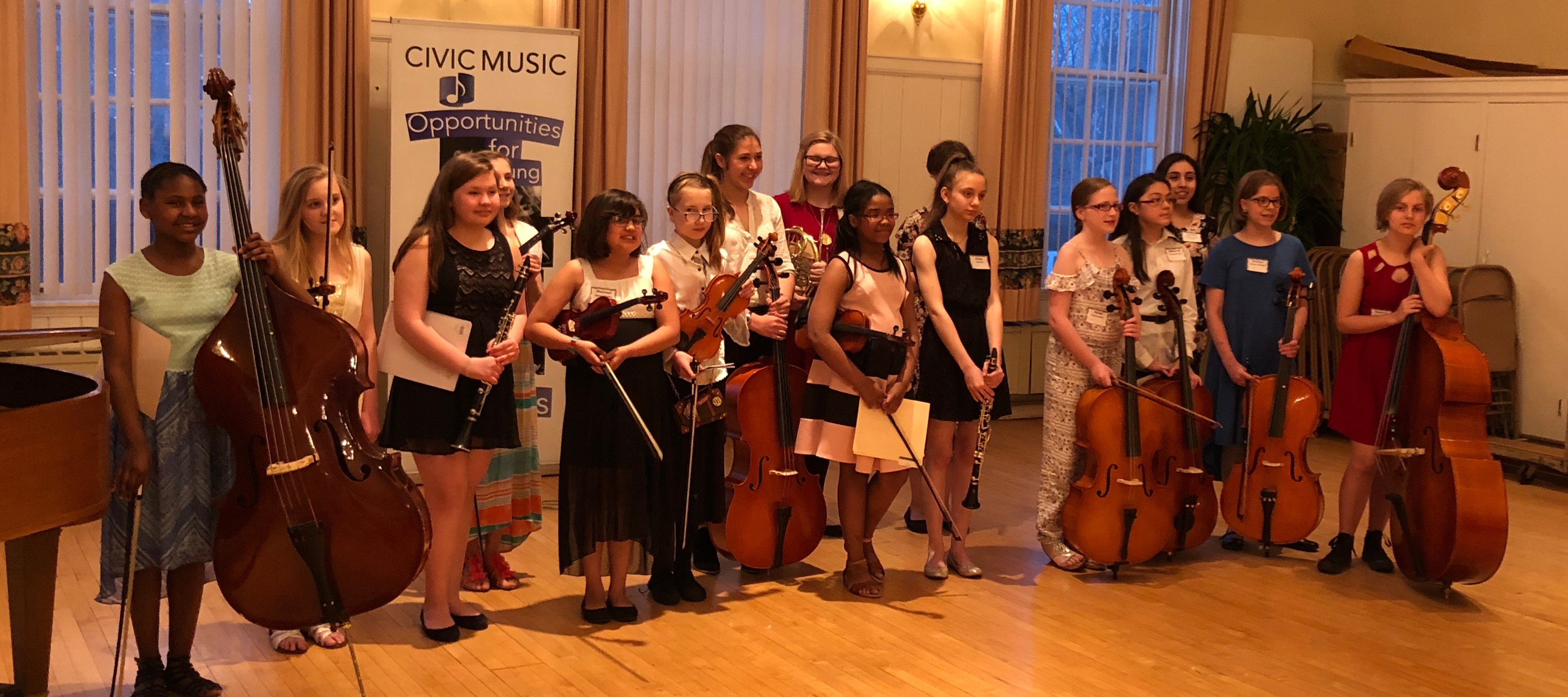 AUDITION DATE: Saturday, March 28, 2020
LOCATION: First Congregational Church of Wauwatosa
DEADLINE: February 28, 2020
Applications available January 14, 2020
Eligibility:
Instrumental students who will be in grades 4-9 in the following school year (band or orchestra instruments, piano and guitar)
Vocal students who will be in grades 8-12 in the following school year
Family has demonstrated financial need (CIVIC MUSIC will determine this from the application)
Resident of Milwaukee, Waukesha, Washington, Ozaukee or Racine County      
New to private music lessons on their instrument/voice
Shows exceptional musical potential and strong interest in pursuing their musical development
Application Process:
Students must be recommended by a teacher. (Parents and students can certainly ask their teacher for that recommendation!) Students, parents and recommending teacher need to work together to complete the application. Please make sure to give yourself enough lead time when preparing it.
Audition and Interview: 
Students will be assigned to either a morning (9:00AM-Noon) or afternoon (1:00-4:00PM) session and must attend with their parent/guardian.  Several valuable experiences are planned:
Program Orientation 
Audition and Recital Preparation Workshop 
Recital Performance by one or more of our High School Showcase Recital winners
Audition/Interview (5 minutes) before a panel of two music educators
Scholarships:
Scholarships provide private lessons to selected instrumental and vocal students.  Selected students receive 25 half-hour private music lessons with some of Milwaukee's finest music teachers. As a culminating experience to the program, there is a year-end recital showcasing each participant in a solo performance in front of a live audience.
Year 2 and 3:
Year 1 students who are recommended by their private teachers are eligible to apply for Year 2.  And Year 2 students who are recommended by their private teachers are eligible to apply for Year 3. 
---
AUDITION AND RECITAL PREPARATION WORKSHOP
ATTENDANCE: Open to all Private Lesson Program auditioning students and their parents
DATE: Audition Day, March 28, 2020
LOCATION: First Congregational Church, Wauwatosa
This workshop is offered at no charge to all students who are auditioning for a private lesson scholarship. And, of course, parents/guardians are welcome! Take away some insights about practicing and performing from someone who has loads of experience with both!
---
The Private Lesson Program is made possible in part through generous funds donated by Norbert J. Beihoff,  CIVIC MUSIC Friends and the following foundations and service organizations:
White House of Music Foundation | Steinway Society of Milwaukee
Pieper Electric | Elmbrook Rotary Club