2016 Distinguished Citizens - Patrons in the Arts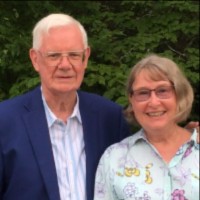 Margarete and David Harvey have integrated their passions for music and other arts with a love of nature and the environment in a lifelong commitment to community service that has enriched our cultural life in the Greater Milwaukee area. Among their many musical activities, they were instrumental in helping with the creation of the Milwaukee Youth Arts Center (MYAC) and the Progressions Program of the Milwaukee Youth Symphony Orchestra (MYSO). Today, they continue to enjoy MYSO Progressions Concerts, as well as attending the Milwaukee Symphony Orchestra, the Skylight Music Theatre and the Florentine Opera.
Margarete is a recently retired landscape architect. From 1988 to 2010, she ran an independent design studio, Rosebrock Gardens, which specialized in the creation of beautiful landscapes for human enjoyment while carefully preserving existing natural resources. During much of that time, she also served on the MYSO board, where she was President from 2005-2007. As Co-Chair of their Campaign Cabinet, she helped establish MYAC as a combined rehearsal facility for MYSO and First Stage Children's Theater, using her landscaping skills to design and install a public green space around the Center. She also served as Chair for the Fran's Fund campaign to establish a scholarship fund for students who completed the Progressions program and auditioned into one of MYSO's ensembles. In 2014, she established the Margarete Harvey scholarship for Progressions students who stayed in the MYSO program throughout their school years. In addition to her service for MYSO, Margarete currently serves on the boards of the Friends of Boerner Botanical Garden and the Friends of Villa Terrace Decorative Arts Museum, and recently finished a term as President of the Schlitz Audubon Nature Center, where she successfully raised funds for the construction of    accessible  trails with an elegant boardwalk. She has also served on the boards of the Milwaukee Art Museum Garden Club, and in 1991 helped start the Urban Ecology Center, where she is still a member of its Advisory Board.
David is the retired CEO and Chairman of the Board of Sigma-Aldrich Corporation. He received his doctorate in chemistry from Merton College at Oxford University, and later was a NATO Fellow in Chemistry at Heidelberg University. He began his career in 1965 at Shell International Chemical Company in Switzerland and Germany, and in 1974 joined Sigma-Aldrich as Vice President of its European Operations. He has served on the boards of the Skylight Music Theater, Alliance Francaise, and the Merton College Charitable Corporation. In 2015, he was made a member of the Chancellor's Court of Benefactors at Oxford University in recognition for his support of his Alma Mater.
David, a native of England, met Margarete, a native of Germany, at Oxford when he was studying chemistry at university and she was attending language school. They have three accomplished daughters: Matthea, a poet and professor at Sarah Lawrence College; Celia, an environmentalist working in international conservation in Costa Rica; and Ellen, a Brooklyn based artist working in a variety of media. Over the years the Harveys also opened their home to international students from Peru, Norway, Germany and Japan, in addition to keeping in touch with their extensive families in Germany and England.