2016 DISTINGUISHED CITIZEN - PROFESSIONAL IN THE ARTS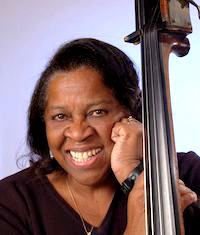 Laura Snyder has been a double bassist with the Milwaukee Symphony Orchestra since 1970, where she is a frequent soloist both as an instrumentalist and a singer. She is also an avid teacher of young people. In addition to her large private double bass studio in Milwaukee, she has served on the faculties of UWM, Lawrence University in Appleton, Wisconsin Lutheran College, Concordia University and Carroll University. In July 2003 she traveled to Haiti to teach string bass to underprivileged children.
She says, "My goal is to be an instrument. If God has given me a gift to use, I'll use it and take care of it." True to her talents, she has now ministered in a wide variety of settings and locales, including numerous churches, conferences, retreats, seminars and tours. In 1998 and 1999, she traveled to Africa to minister and sing in Botswana, Zimbabwe, Kenya, Ethiopia, Burundi and South Africa. In December 2001, the entire Snyder family toured southern Africa, performing numerous benefit concerts and services. Her first CD, Precious Lord, Take My Hand, is her heart's response to the plight of children who live on the very edge of existence in Khayalitsha Township outside Cape Town. A family production, this recording features both her daughter Jennifer and son Jared accompanying their mother in a collection of hymns, Negro spirituals and gospel songs. All proceeds from this project go directly to the aid of the children of Khayalitsha Township.
In 2000, Snyder was awarded the Milwaukee Times Newspaper's Black Excellence Award in Music, presented to African-Americans in our community who have opened the doors of change and who portray the essence of positive role models in our society. In 2007, the United States Postal Service honored her for her contributions to arts and entertainment in commemoration of Women's History Month – Women Putting Their Stamp on Metro Milwaukee.
A native of New York City, Snyder began her musical training at the prestigious High School of Music and Art as well as the Dalcroze School of Music, studying with New York Philharmonic bassist Homer Mensch. She went on to study bass with both Murray Grodner and Gary Karr at Indiana University. There she also trained as a contralto vocalist with both Vera Scammon and Elizabeth Mannion, and later continued vocal studies with Mari Taniguchi at Lawrence University in Appleton, Wisconsin.
A former member of Civic Music's Board, Snyder was previously honored by Civic Music in 2000 and 2004 for her achievements in studio music and her overall work as a professional musician and music educator. She has three grown children – Jennifer, Jonathan and Jared – and a delightful granddaughter, Isabella.