NOMINATION DEADLINE: January 5, 2018
PRESENTED: March 10, 2018
EVENT: Milwaukee Symphony Orchestra performance, Marcus Center/Performing Arts
Since 1918, CIVIC MUSIC has promoted and recognized excellence in music education in our community. In keeping with our mission, we annually recognize individuals for their outstanding work in the field of music education.  We are pleased to host this celebration of educators in the month of March - - Music in Our Schools Month.  We are honored to continue our collaboration with the Milwaukee Symphony Orchestra on this project.
This year's Music Educator Awardees will be publicly recognized at a Milwaukee Symphony Orchestra concert in March 2018, at the Marcus Center for the Performing Arts, Milwaukee.  Do you have someone in mind that is deserving of one of these awards because of their dedication and contributions to area music programs? If so, please nominate them!
The awards are:
CERTIFICATES OF EXCELLENCE are given to outstanding teachers in any or all of the following categories.  All music educator nominees will be considered for the MUSIC TEACHER OF THE YEAR Award, although this award is not necessarily presented annually. 
      Instrumental Music Instruction
      Choral Music Instruction
      General Music Instruction
      Studio Music Instruction
      Youth Music Instruction
EDUCATIONAL ADMINISTRATOR OF THE YEAR:  This award honors educational administrators who have shown outstanding support for music education and teachers of music.  By applauding outstanding educational administrators, we encourage and draw attention to those lending important support for music education. 
ACE TEACHER OF THE YEAR: This award honors grade level classroom teachers who demonstrate outstanding commitment to arts integration through the Milwaukee Symphony Orchestra's Arts in Community Education (ACE) program, and support music and the arts throughout their schools.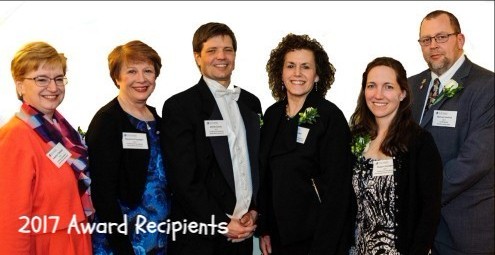 2017 MUSIC TEACHER OF THE YEAR
MICHAEL VANPELT

Mike VanPelt is celebrating his 25th year teaching in MPS this year. He is currently the Director of Bands and Orchestras at Riverside University High School in Milwaukee. Prior to this position, he was the Director of Bands at Burlington High School; Director of Bands & Orchestras and Music Department Chair at Bay View High School in Milwaukee, WI; Band Director at a Milwaukee K-8 school; and a traveling music teacher in the Milwaukee Public Schools. He has also led the Milwaukee American Legion Band since 2002. He was named Riverside's "Teacher of the Year" in 2014-15 and will be awarded the Civic Music Association's "Music Teacher of the Year" award in 2017. Mike is not only a teacher but an active musician in the area as well, playing with area big bands, jazz combos, and pop groups, and is on call for several area concert organizations.
2017 CERTIFICATE OF EXCELLENCE IN INSTRUMENTAL MUSIC INSTRUCTION
MEGAN ASWEGAN

Megan Aswegan has taught elementary orchestra in the Mequon-Thiensville School District since 2002. She directs the 4th and 5th grade students at all three of the district's elementary schools. She continues to help the orchestra program grow in both numbers and quality. She was a violin student at MacPhail Center for the arts in Minneapolis and has studied Suzuki Pedagogy across the country. She earned her undergraduate degree from the University of Wisconsin-Eau Claire in Music Education, and her Master in Teaching Music from Northern Arizona University. She performs with the Concord Chamber Orchestra in the summers and is enjoying life as a mom to her two children.
2017 CERTIFICATE OF EXCELLENCE IN CHORAL MUSIC INSTRUCTION
MARJORIE FLANAGAN

Marjorie Flanagan currently serves as the Fine Arts Coordinator and Choral Director at Wisconsin Lutheran High School, where she teaches Freshman Choir, Music Spectrum, Church Music, and Musicianship through Handbells. She directs the Jubilation Handbell Choir and coordinates all Elementary Vocal music activities, including the Musical Adventures series, the Wisconsin Lutheran Children's Choir, the Junior Choir Festival, the Grade School Piano Festival, and Summer Choral Camp. Marjorie received her Bachelor of Music degree and Kodaly Certificate from Alverno College and a Master of Church Music from Concordia University-Wisconsin. She and her husband Jon reside in Wauwatosa and enjoy family activities with their two adult children.
2017 CERTIFICATE OF EXCELLENCE IN STUDIO MUSIC INSTRUCTION
ADRIEN ZITOUN

Cellist Adrien Zitoun joined the Milwaukee Symphony Orchestra in 2001. He also performs with Present Music and the Philomusica String Quartet, which has residency at the Wisconsin Lutheran College. Mr. Zitoun teaches at the Wisconsin Lutheran College, coaches the Milwaukee Youth Symphony Orchestras, and has a handful of dedicated private students. In 2001, as a member of the Eusia String Quartet, he was awarded the Gold medal at the Fischoff Chamber Music Competition and the Music Pen club award in Japan for the best Chamber music recording in 2006 for their recording of music by Britten, Purcell and Takemitsu. In 2016, Mr. Zitoun, along with his cellist wife Braden Zitoun, co-authored the book Play Cello Today!, published by Hal Leonard. He recently received the 2017 CIVIC MUSIC Certificate of Excellence for Studio Music.

In his native land of France, Mr. Zitoun studied cello at the Conservatoire National Supérieur de Musique in Lyon with Yvan Chiffoleau. In the United States, Mr. Zitoun earned his Artist Diploma and a Masters of Music from Indiana University where he studied with Tusyoshi Tsutsumi and Janós Starker.
2017 CERTIFICATE OF EXCELLENCE IN GENERAL MUSIC INSTRUCTION
HEATHER CHESLOCK

Mrs. Heather Cheslock has taught elementary general music in the Hamilton School District in Sussex, mainly at Woodside Elementary School, for 20 years. She has been active in the MSO's ACE (Arts in Community Education) program since Woodside joined ACE 12 years ago. She is currently a member of the ACE Working Group, in which teachers work with MSO education staff to keep the ACE program relevant to current practices in education.

Mrs. Cheslock previously taught general music at Escuela Vieau in Milwaukee Public Schools. She earned a Master of Education degree from Cardinal Stritch University, and Bachelor of Fine Arts degrees in Music Education and Music Therapy from the University of Wisconsin-Milwaukee.

Mrs. Cheslock thanks Civic Music Milwaukee for this award. She appreciates the support of the administrators, staff, parents, and students at Woodside, as well as the MSO education staff. She is grateful to her father, who passed away this past December, and her mother for both instilling in her a love of music. She also thanks her husband, Jim, for all he does to help her put so much time and energy into teaching.
2017 ACE TEACHER OF THE YEAR
Jane Borden started her teaching career with the Milwaukee Public Schools in 1992 at Tippecanoe School for the Arts and Humanities after completing her undergraduate work at Cardinal Stritch University. She received her Masters of Science Degree in Curriculum and Instruction with an emphasis in Creative Arts and Learning from Lesley University in Cambridge, MA and began to expand her dedication and important work with arts integration.
Jane has received numerous education awards including: Kohl Fellowship, Betty Brinn Teacher of the Year, 5 TWC (Time Warner Cable) National Crystal Apple Awards, 10 TWC State and Local Awards. Beyond her first grade classroom at Milwaukee Parkside School for the Arts, Jane Is the co- founder of the BayView Children's Choir as well as the co-founder and Lead Teacher for the Arts and Science Literacy Camp - a summer camp created to strengthen and enhance reading skills through nature themes and the arts. She is also an adjunct faculty member at Alverno College, teaching and guiding education students to deepen their understanding that the arts are inclusive and are a powerful tool to use in the classroom.