NOMINATION DEADLINE: January 5, 2017
PRESENTED: Saturday, March 11, 2017
EVENT: Milwaukee Symphony Orchestra performance, Marcus Center/Performing Arts
Since 1918, Civic Music has promoted and recognized excellence in music education in our community. In keeping with our mission, we annually recognize individuals for their outstanding work in the field of music education.  We are pleased this year to move our celebration of educators to the month of March - - Music in Our Schools Month.  We are also pleased to announce a collaboration with the Milwaukee Symphony Orchestra and the addition of an award, ACE Teacher of the Year.
This year's Music Educator Awardees will be publicly recognized at the Milwaukee Symphony Orchestra concert on Saturday, March 11, 2017, at the Marcus Center for the Performing Arts, Milwaukee.  Do you have someone in mind that is deserving of one of these awards because of their dedication and contributions to area music programs?
If so, please nominate them!
The awards are:
MUSIC EDUCATOR AWARDS:  Certificates of Excellence are given to outstanding teachers in any or all of the following categories.  All music educator nominees will be considered for the MUSIC TEACHER OF THE YEAR Award, although this award is not necessarily presented annually. 
      Instrumental Music Instruction
      Choral Music Instruction
      General Music Instruction
      Studio Music Instruction
      Youth Music Instruction
EDUCATIONAL ADMINISTRATOR OF THE YEAR:  This award honors educational administrators who have shown outstanding support for music education and teachers of music.  By applauding outstanding educational administrators, we encourage and draw attention to those lending important support for music education. 
NEW THIS YEAR!
ACE TEACHER OF THE YEAR: This award honors grade level classroom teachers who demonstrate outstanding commitment to arts integration through the Milwaukee Symphony Orchestra's Arts in Community Education (ACE) program, and support music and the arts throughout their schools.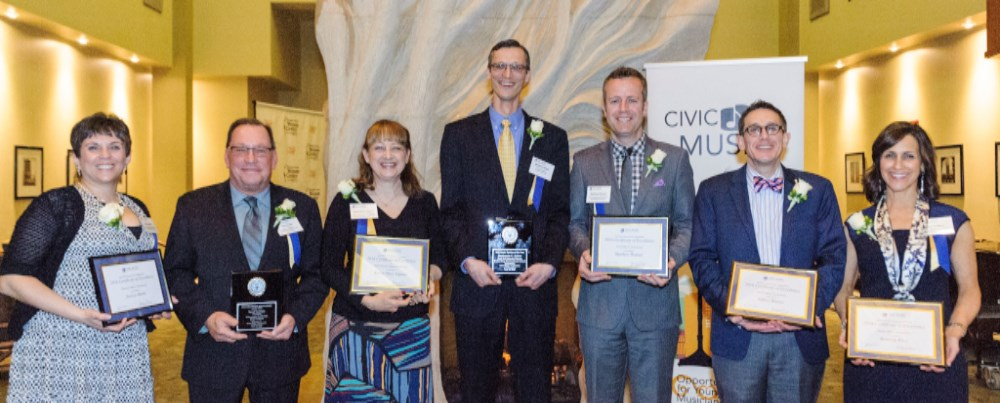 2016 MUSIC TEACHER OF THE YEAR AWARD WINNER
BENJAMIN ZABOR

Ben Zabor, currently the band and orchestra director at Rufus King High School, taught band and orchestra at Lincoln Center of the Arts from 2004 to 2012 and at Grand Avenue School from 2000 to 2004. He has been Milwaukee Public Schools since he started teaching in the fall of 2000.
He received his B.Mus. in Music Education and B.A. in Government from Lawrence University in Appleton, WI where he studied saxophone with Professor Steven Jordheim and his Masters in Music Education degree from Boston University. He performed with Prof. Steven Jordheim (Lawrence University) and Prof. Marco Albonetti (Bari State University, Italy) at the Faeza International Saxophone Festival in Faenza, Italy in the summers of 2000 and 2001. He has also performed at several North American Saxophone Alliance conventions and competed in major chamber music competitions. He has participated in masterclasses with such well known saxophonists as Jean-Marie Londeix, Joe Luloff, and Russell Peterson. In 2007 he was named the MPS Middle School Instrumental Teacher of the Year and in 2011 and 2015 he received the teacher of the year award from the Metropolitan Milwaukee Association of Black School Educators.
During his time teaching at Lincoln Center of the Arts and Rufus King High School his drumlines have won the MPS Drumline Competition a combined 6 times, including extending King's winning streak to 11 consecutive wins. For the past three years, King's JV Drumline has placed third in the MPS Competition. Additionally, King's Varsity Drumline has won the MLK Dream Classic Competition in Chicago and the Fresh Coast Classic Competition in Milwaukee. The Varsity Drumline is one of the most requested performing groups in Milwaukee and has been featured on both PBS' show "Black Nouveau" and Fox 6's show "Real Milwaukee."
At King, he is responsible for teaching the String Orchestra, Full Orchestra, Concert Band, Marching Band, Jazz Band, Percussion Class, IB Music, JV Drumline, and Varsity Drumline as well as numerous small ensembles.
2016 CERTIFICATE OF EXCELLENCE IN INSTRUMENTAL MUSIC INSTRUCTION
KAREN MARY LIPPERT

Karen brings more than 30 years of experience as Band Director at St. John's Ev. Lutheran School - Lannon to her position as part-time instrumental music lesson instructor, recorder teacher and Concert Band Director for WLHS. Karen earned a Bachelor of Science degree and a Masters of Education and Administration from the University of Wisconsin - Milwaukee. She was elected into membership of the American School Band Directors Association in 2008 in recognition for developing outstanding bands.

Karen is also Principal Conductor of the Milwaukee Metropolitan Community Concert Band and Bell Choir director for Faith Lutheran Church - Sussex. As President of Soli Deo Gloria Institute for the Arts, Inc. she administers the highly acclaimed WELS Summer Band Camp serving middle school musicians in a week long music experience that is fondly known as "the best week of the year" by campers and staff alike.

Karen resides in the Village of Merton with husband Dan. They have two grown children - Christopher (Sara) and Jessica (Steve) and three cute grandchildren – Bernard, William and Emily. Both families presently reside in California. Karen is a member of Faith Lutheran Church - Sussex and is a regular visitor at St. Paul's Muskego where Dan is a member of staff and a percussionist for their Praise Bands.
2016 CERTIFICATE OF EXCELLENCE IN CHORAL MUSIC INSTRUCTION
MATTHEW WANNER

Matthew Wanner is a member of the choral faculty at Muskego High School where he also teaches Advanced Placement music theory and serves as Chair of the Music Department. He was honored to receive the very first Muskego Norway School District Compass Award, which recognized him for his positive impact upon the school and community as well as his commitment to leadership and creativity. Choirs under Matthew's direction have appeared at state conventions of the Wisconsin Choral Directors Association and the Wisconsin Music Educators Association. He earned his undergraduate degree from the University of Wisconsin-Eau Claire, and he earned his Master of Music in Music Education: Choral Conducting Emphasis from the University of Wisconsin-Milwaukee.

Matthew currently serves as immediate past president of the Wisconsin Choral Directors Association.
2016 CERTIFICATE OF EXCELLENCE IN STUDIO MUSIC INSTRUCTION
ROBERTA RICCI

Roberta Ricci has had a varied career as performer, teacher, coach and administrator. A graduate of both the University of Kansas and The Boston Conservatory, her performance credits include operatic, recital and concert work in Missouri, Ohio, Georgia, Florida, Massachusetts and New York. She has held teaching positions at Brenau University, Kenyon College, Denison University and the
Capital University Conservatory of Music. In addition, she has held administrative positions in Education, Marketing and Development at Opera Columbus and Lake George Opera (now Opera Saratoga). Her students have gone on to prestigious institutions such as Northwestern University, Indiana University, The Eastman School of Music, The Boston Conservatory, Lawrence University Conservatory of Music, The Longy School of Music, New York University, Harvard University, and Oberlin Conservatory of Music.

Her students have won competitions in both classical and music theater genres including the National Association of Teachers of Singing Auditions, the Classical Singer Vocal Competition, the Schmidt Competition, Civic Music Association of Milwaukee and the National High School Musical Theater Awards. Her students have also attended highly regarded summer training programs including Interlochen Arts Camp, The Tanglewood Institute of Music, Oberlin in Italy and Music Academy International. A frequent adjudicator, Ms. Ricci is a member of the National Association of Teachers of Singing and a former Board member of the Civic Music Association of Milwaukee.

In addition to maintaining an active private voice studio, she is also a faculty member of the Florentine Opera's Young Singing Actor Intensive and has provided vocal coaching for MYSO Bach Ensemble.
2016 CERTIFICATE OF EXCELLENCE IN YOUTH MUSIC INSTRUCTION
JEFFREY REEVES

Jeff Reeves serves as the Director of Children's Music Ministries at St. Matthew's Lutheran Church in Wauwatosa. In this position, Jeff coordinates and directs choral and handbell choirs for children in pre-kindergarten through 12th grade. The graded children's music program includes two handbell choirs (grades 4-6 and 7-12) and two choral groups (grades K-2 and 3-6). Jeff also teaches private piano offered through St. Matthew's music ministry.

Since 1990, Jeff has specialized in the field of church music for children. His work in both the music publishing industry and the local church has given him the unique opportunity to understand the needs of children's choirs within the larger ecumenical community. He is the author of numerous publications including children's music curriculum materials, teaching articles, as well as choral and handbell works for children of all ages.

Jeff's career in the music publishing industry has provided him the opportunity to work for a variety of music publishers across the United States: LifeWay Christian Resources (Nashville), Abingdon Press (Nashville), World Library Publications (Chicago), and Choristers Guild (Dallas). He currently serves as Choral Music Editor with Hal Leonard Corporation in Milwaukee. In his role at Hal Leonard, Jeff serves as the primary editor for the Henry Leck Choral Series, Discovery Choral Series, and the Shawnee Press sacred choral catalog for children, Worship Songs Junior.

Jeff holds a Bachelor of Music degree from Oklahoma Baptist University and a Master's of Church Music degree from Southern Theological Seminary. He lives in Brookfield with his husband, John Paradowski, who is Minister of Music & Organist at St. Matthew's Lutheran Church, Wauwatosa. Together, Jeff and John enjoy spending time with family and friends, playing with their super cute beagle, Dolly, and traveling to warm weather destinations!
2016 CERTIFICATE OF EXCELLENCE IN GENERAL MUSIC INSTRUCTION
JESSICA MARKS

Jessica Marks has taught general music and chorus (Pre-K-5th) at the Academy of Accelerated Learning since 1999. She is also the District Elementary Choir Conductor for the MPS Biennial Music Festival. As music director for Spotlight Youth Theater in Cary, Illinois, Jessica teaches group voice classes and choir, and has served on several production teams. She also serves as a cantor at St. Rita's Parish in West Allis. In February 2007 she was WJZI Teacher of the Month, and was previously recognized by Civic Music in 2004 as a general music teacher. Jessica earned her Bachelor's degree in Vocal Performance from Millikin University in Decatur, IL, and her Master's degree in Music Education from UWM.